.
EDIT 17/06/2016: It seems like if nothing else, Funimation's customer service and PR is quite great. People have been receiving emails about their reduced fee for next month subscription for current subscribers due to disruption in their service last weekend. Great job on that, credits where credits due.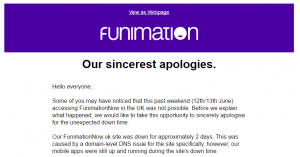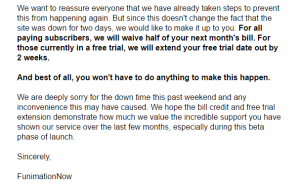 If people haven't heard of them, Funimation is one of biggest anime licensing/broadcasting company in western world. If you are a fan of dubbed anime, the chances are that dub has been done by Funimation. They also license their show in subs and make them available in DVD and Blu-ray (if I remember correctly.) It is also broadcaster of one of my guilty pleasure Highschool DxD in western world (although I believe they are censored during broadcast.) But only problem they had was that they were only available in American continent, and as anime watcher across Atlantic  ocean, only way I could watch shows that have been licensed by Funimation has been either hoping other distributors such as Crunchyroll and Daisuki will simulcast them, or watching videos that have been done by the fan sub groups.
Well, at the beginning of March as the new season rolled out, they have introduced a service called FunimationNow, their own streaming service that compete directly with Crunchyroll (one of, if not biggest anime broadcaster) or Daisuki (lesser known platform financed by Bandai and several anime studios, only known to me after One Punch Man.) With UK expansion of Funimation, and as someone who's been waiting for this service to come to England for such long time, I did not hesitated to sign up for their 30 day trial, and continued to use their service to watch this season anime that are being simulcast in this platform. Now that I've been using the service for about 3 months, and this spring season winding down, I thought it would be good time to give my opinion on their service.
I'll be mainly comparing FunimationNow with Crunchyroll and not Daisuki. My reason is that I have not used Daisuki other than to watch One Punch Man, and even then I had such bad experience with their website and their service to a point where I don't really recommend people using that service even if their membership is free. I have also used Crunchyroll for much, much longer time and therefore I feel like I can make fair comparison between two products. I will also be focusing on UK version of their service for obvious reason that I live in England and have no access to American version of service. My preferred devices to watch videos are my Samsung Gaalxy Tab 10.1 and my desktop. I did use my Sony Xperia z5 to watch videos occasionally.
Pros
Business model of FunimationNow is similar to how Crunchyroll works. You've got three tiers of membership. Free, Sub-Pass and All-Access Pass. Just like Crunchyroll, Free membership will grant you access to the anime a week later, and will be ad-supported. (This is where my unpopular opinion kicks in. If you are using ad-block software on your web browser, please consider whitelisting the sites that you frequent and want to support them, not just Funimation but other websites as well. Thank you J) Sub-Pass is, as the name suggest, membership that grants members with sub-only videos. All-Access Pass is where FunimationNow has a slight edge over Crunchyroll as All-Access will grant you to Dub and Broadcast Dub (Those two are different, more on that later.) videos. Let's not judge people here, there are people who prefer Dub videos, and quality of Dubs have come a long way since this industry has started, and to people who prefer watching anime in Dub, FunimationNow is only legal service that I am aware of that can provide quality Dub.
Best part? They are all cheaper than Crunchyroll. Sub-Pass will cost £3.99 per month, and All-Access Pass will cost £6.99 per month. Equivalent service will cost £4.99 and £8.99 respectably on Crunchyroll (However, there are options to make bulk payment on Crunchyroll, which will reduce amount to pay compared to monthly payment.) With lower cost than Crunchyroll, FunimationNow put themselves in a quite favourable position.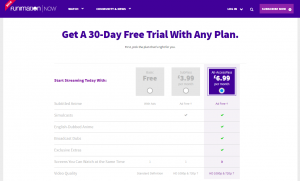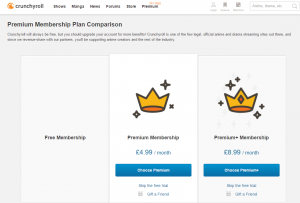 Now, back to topic of Dub anime. Whether you agree or not, the fact is that there are people who solely watch Dub and enjoy them. I personally prefer Sub, but I can understand the argument that Dub is easier to watch since there are no reading of translation involved. Funimation, beside from 4kids, is only company that does dubs that I am aware of (I'm not too sure on this but I also heard Bandai also did Dubs but I can't confirm it as of writing this.) And the fact that they also does Broadcast Dub, where they Dub an episode as soon as their availability whereas before, they had to wait until the series has finished airing in Japan before they got their hands on the materials to Dub over, is great addition for Dub anime watchers and something only FunimationNow can deliver as of now.
For their selection of series, I say that it's pretty well rounded and has good selection. For spring simulcast selections, there is obviously My Hero Academia, then there are shows such as Assassination Classroom, Netoge, Shounen Maid, Kuma Miko, etc. FunimationNow also have great selection in their library such as Snow White with Red Hair, Attack on Titan (Also available on Crunchyroll), Gangsta, Prison School, Highschool DxD, Haganai, School Rumble, and many more. This is pretty wide range of anime selection and it'll be hard not to find a show that you like form their library. Fair warning, the availability of shows will depend on your country and region, so before signing up to this service, make sure the show you want to watch will be available in your region.
Just like Crunchyroll, they have dedicated app that people can download for free on Google Play store, and that is how I primarily consumed my entertainment. I have also used their website on my desktop using Google Chrome mainly with conjunction of Firefox. From UI prospective, the layout of both website and android app are clear and easy to use. It's easy to see where everything is and I haven't had much trouble navigating through various options and settings they've got. All in all, there aren't problems with their UI and design.
Cons
Now, here is part that people will see the most. It's easy to look over the stuff that works since… well, they work as expected. People aren't going to notice something if everything works properly as intended. However, the flaws of a product are the ones that people will inevitably see and complain about. Funimation did many things right, the pricing of their service to their selection of shows available in both Sub and Dub. However, there are many things Funimation can improve on and that need to be fixed urgently. I will give them that they are relatively newer service compared to Crunchyroll in ENGLAND. However, from what I can gather from my American friend, Funimation have been doing simulcast for quite some time in America and some of flaws that I will point out should have been thought of before the release of their service, or at least have been fixed early on in their service since they have had experience with simulcasting.
I will not be talking about lack of advertised shows that is under Funimation License since I understand that in different regions, there are some shows that have been licensed by another publisher and is not available on FunimationNow, and since Crunchyroll suffers from same issue, I don't think it will be fair to penalise FunimationNow for fault that's outside of their reach.
Disclaimer; I have NOT used Funimation service in American continent ever! The information I have gathered is from a friend who have briefly used their service back in American and may not be correct!
One of the most frustrating problems that I have experience during the of use of this service was their dodgy video player. I am not expecting quality such as YouTube for video playback (I have heard from internet that services such as Funimation and Crunchyroll have to use flash video player instead of much better HTML5 for piracy reasons. I do not know if this is true or not.) But what I expect from service that I pay for is smooth, seamless playback without interruption and fast loading time. But with both app and web browser player, experience I get is choppy, unreliable player that is notoriously slow at loading the video. My experience with android app player is even worse where instead of waiting for video to load; the sound will rewind back about 5 to 10 second, whilst keeping the video on the frame that had been paused on. The frustration was so great that at one point, I just closed the app and went to other source in order for me to finish the episode without lag or loading problem or any difficulties. In my house, I have wired connection that can deliver 150/20, and normally get 70/10 on wifi. If that connection is not good enough for delay-free experience, I don't know what will. It doesn't help that their direct competitor, Crunchyroll, has none of these issues. Sure, Crunchyroll has their own issues with their video player both on their website and in their app, but those problems are far less significant compared to issues that I have been experiencing for times that I have been using their service (Just look at the rating given on Google Play Store.)
Next problem with FunimationNow is not exactly their fault, but rather unfortunate side effects of doing business. I just don't feel like FunimationNow gives me any better service compared to Crunchyroll, or services that FunimationNow gives me is also available on Crunchyroll. Only thing that is unique to Funimation is their cheaper price, Broadcast Dub availability, and availability of some anime that's not available on Crunchyroll (and vice versa.) Since I don't watch Dub anime, that's one incentive to get FunimationNow subscription gone, and even if subscription to their service is slightly cheaper, the aforementioned problem of exclusive shows will make me subscribe to both platform regardless, only reason why I could do that is because I've got disposable income right now. Another problem I've got with FunimationNow is, in my opinion, shows that are available is still lacking compared to Crunchyroll and therefore I will not hesitate to end the subscription if I could not afford to pay for two service at the same time. As I said before, this is just an unfortunate side effect of business and it's not solely Funimation's fault and I get that, but at the same time, if Funimation could not improve their service I don't know how long I'll be willing to pay.
Conclusion
Funimation has finally made its way to British Isle, and I have truly grateful for that. They've got great simulcast selection as well as diverse library of shows that have aired previously, their pricing is also very competitive and I can't wait what they have in mind for near future. However, few problems that they've got are things that have ruined my experience significantly. They need to fix their video player ASAP, and their selection of anime available for stream can be helped with little more licensing agreement. I know that sounds stupid to ask for but seriously, I was looking forward to be watching Spice and Wolf and other shows legally! There's also a problem that platform exclusivity means that I will inevitably pay for both services if I want to watch shows in timely manner but I can forgive Funimation with this since they aren't the only ones that's been suffering from this problem.
Will I be keeping my FunimationNow subscription? For now, yes but hesitantly. I love what Funimation is bringing to the table, and my opinion is of that more competition is better. However, problem with their video player must be addressed ASAP, and with recent alliance of Crunchyrooll and Kadokawa, it may be that more licencing and broadcasting right will go to Crunchyroll instead of Funimation but who knows.
For now, I'm happy that I can enjoy shows without resorting to illegal sources If possible.