This is fan made translation. The full right goes to the authour Ichiei Ishibumi. Please support the original authour if possible.
This is Korean To English Translation.
Translator: daniel Yang
Editor/QC: Alexis138
It was a time when the weather got chilly as winter approached.
Inside the club room, there were only Asia, Xenovia and I.
"I'm a bit curious, what does Irina do when she's not with us?"
I got curious while drinking tea.
"It seems like she is carrying out jobs as an Angel for Heaven."
Xenovia answered while sitting across from me.
Oh, a job as an Angel for Heaven. Irina is the only reincarnated Angel in ORC right now with the rest of us being Devil. Well, except for that crazy Fallen Angel Azazel-sensei. Irina usually stay with us most of the time but there are times when she goes on her own, like when the rest of us are doing our jobs as a Devil.

We normally stay until late night in the club room waiting for one of us to be called, but Irina is often not here with us. Even if the Three Great forces have made peace with each other, she won't be able to help us with our work since she's an Angel. Well, there are times when she would provide us some drinks but…. She would never get involved directly.
"Sometimes, she goes out alone during the holiday saying she's doing her job as an Angel."
Asia said, while eating strawberry from a cake.
So she's busy with jobs that we don't know about.
"….An Angel's job. I'm bit curious. "
I just blurted out without thinking, but the face of Asia and Xenovia got brighter when they heard me. Since they were part of the Church before, I guess they will be interested in these things….
"Yes, I'm also interested in what Irina does. Actually, what a job of an Angel is like to be precise. As her friend, I want to see what she does for her job. You too, right, Asia?"
"Yes, Xenovia-san! I really want to see the job of an Angel at least once in my life!"
Arara? It seems like I've hit the wrong spot. They have entered the devout believer mode. Well, they were part of the Church before reincarnation so it's not surprising that they are interested.
"…But won't we be a bother…?" Asia changed the tone of her voice. They were interested a moment ago but after thinking about it calmly, it seems like she thought she might be a bother to Irina and the Church if she tag along. She really has such a kind heart.
But as if to get rid of her worries, the door was opened energetically and Irina entered.
Irina nodded her head and made a mischievous smile.
"Fufufu, I heard all of it! Ok then! I will show you what I do for my job!"
I have a feeling that we will be involved with the Church this time….
The following holiday, Asia, Xenovia and I arrived at the building related to the Church in the neighbouring town. They told us that this is also one of the living quarters for people related to the Church around here and also act as the HQ for Heaven. According to Irina, she normally receives job requests and would report back to this place.
Maybe because of the peace between the Three Forces were done recently, the outside of the building looks pretty new. As expected from a building affiliated with Church, there is a large cross at the front of the building. It was a nice modern building that looks like it is as big as Khou academy's new building and didn't look like one of those Western styled Churches.
Irina told us to come here today. She must have arrived here before us….
By the way, we got permission from Rias beforehand. She sent us on our way saying 'This is a good chance to learn about the Church' and even got permission from the Heaven for us.
As expected from the woman I love! Not only does she understand us, but she also puts the small details into consideration! Ah, she's such a good person…. Well, we did get scolded when we asked to go to the Church before. I guess this is due to the peace treaty between the Three Forces!
…Uuu, since we are all Devils, we get chills just by going near the building affiliated with the Church. The same goes for Asia and Xenovia. Well, it can't be helped. Since we are Devils, we get instinctively nervous near Church buildings. But after the peace treaty, there were no conflicts between the three sides and individual affairs were not interfered. We also joined forces when it was necessary.
"…I always get chills whenever I see a Church while walking around town. Ufufufu, maybe it is a fitting punishment for believers who got reincarnated into a Devil."
Xenovia said in a self-disparaging tone… You are a Devil now so don't be bother about that… I was about to tell her that but it will be hard for them, who grew up in Church facilities, to let go.
"…I want to attend a mass."
Ah, Asia's looking at the building with a longing gaze! As a former believer, she must be having all sorts of thoughts! But if a Devil attends a mass we won't know what might happen so I'm sorry but you can't, Asia!
By the way, Asia was wearing same Khou Academy uniform like me and Xenovia. Wearing a school uniform on holiday feels bit off but if we are going to a Church, we though it will be polite if we go in a uniform which can be called a student's formal dress. Xenovia wore a school uniform like I did but Asia was continuously debating if she should wear nun clothes until we were about to leave. In the end, she concluded that she would wear uniform like us having considered the view of the church and to make the point that she is now a part of the House of Gremory.
"Everyone's here!"
Someone approached us in front of the building. It was Irina.
"I will show you guys today what Angels normally do for their job~"
Irina seemed quite happy; her voice was full of joy. It feels like she's happy that her friends came over to her house to play. She gave us all a card strip that you put on your neck like identifications of employees. The card was some kind of ID with our pictures on it. Irina pointed at the card and explained.
"This is your special permit. It is designed to not cause harm even when you get near to Church associated buildings. Since they are recently invented, only a few people have it."
That's right, even after the treaty, a Devil going into the territory of Heaven will still cause problems. This is apparent especially the case of Asia's Sacred Gear, [Twilight healing]. Apparently it causes harm when they go near the Church. They say it's because it can heal both allies and their enemies, the Devil and the Fallen Angels….
Does it really help if we put this on? We were bit sceptical but we still put the straps on our neck.
…..
When we put them on, the chills that bothered us until now have magically disappeared. Having experienced the affect in first person, Asia and Xenovia looked at their hands with a pair of surprised eyes.
"Please don't use your powers while wearing those. They are still in development stage so we don't know what might happen." Irina explained briefly and gave us a wink.
So we can't use our powers while wearing these. On top of that they don't know what might happen if we end up using them…. Hmm, I'm thankful but I am also scared a bit.
Our ID was probably thanks to Rias talking to Heaven before coming here. Since everything is going smoothly, I guess both sides are starting to trust each other after the Treaty was signed. Well, it's not like we're going to Heaven or Vatican so maybe the permission was given easier. If we wanted to go to somewhere that important, we might get a different attitude from Heaven.
"Well, if we don't use any powers there won't be any problems right." Xenovia said in casual voice but…. I'm most worried about you using your power…. Whenever Xenovia attack using her powers, the screw in her head gets loose and she becomes a power idiot. She had such a cool female warrior vibe when we first met her….
Now, Kiba frequently tells me, "I want to teach her better techniques to widen her attack. I don't think she uses her brain when she's fighting…." in disappointed tone and that she is losing her dignity as a [Knight].
"Then let's go in."
We followed Irina into building in front of us.
When we went through the automatic door, we saw a place that doesn't look different from any other office. People working there also wore a suit like any normal salary man.
But from time to time, we went past priests and nuns along the way… the real priests and nuns. They are wearing the same nun outfit as the one Asia has! Looking at the priests…. That reminds me of that bastard, Freed.
People wearing suits didn't give us any looks when we were walking past but it seems like the priests and the nuns recognised who we are and looked at us curiously…. If they are sent here, they should know that we are Devils.
"…Ah, they are…."
"….I heard rumours…."
They were whispering to each other when they walked past.
Well, I am wearing an ID card with [Hyoudou Issei] written on it so people who knows my name should recognise me straight away.
…but there is something that is more interesting, it was the greetings that people gave to Irina.
"Ace Irina-sama, hello there."
"Nice day to you, Angel Irina."
"Irina-sama, please look over my prayers I offered to the Lord next time."
Everybody who met Irina were either offering prayers or were bowing their head! They are treating her as a saint and are showing so much respect to her!
That's right! It's easy to forget but Irina is the Ace of Archangel Michael-sama! From the deck of cards which Michael-sama owns, she had become one of the twelve Angels directly under him! It's not an exaggeration if one says that that is one of the most important positions one can hold at the Church!
…Since we see her as an easy going high school girl every day, we keep forgetting how important she actually is. If we look at it from the position of the people of the Church, Irina must be someone who people look up to a lot.
"…Irina you are amazing." I muttered, and she replied, 'Ise-kun, what are you saying~?' while laughing heartily but… I will actually think of you as an important angel from now on.
"That's amazing….! I think I'm going to idolise Irina-san from now on!"
"That's right…. If someone became an Angel, then that must be the most honourable thing a person can ask for. Maybe I should be proud to be able to call an Angel my friend."
Asia and Xenovia had sparkles in their eyes and gave prayers on the spot to their friend! Their belief is deepening ever since they arrived here! They are living as Devils right now, but you could tell that they still genuinely believe in God deep inside their heart.
Irina turned around to face us and gave an awkward smile.
"I'm really sorry; people here are specially chosen from every faction and are normally level headed but… they must be bit interested in Devils, you guys."
"I'm not that concerned. Surely they must have known about the terrorists and the monster disaster in the underworld not too long ago?"
"Yes. People who are here at the allied Headquarters are people who cleared certain requirements from each faction. Normally they don't show it outside and aids us from the shadows. They also do missionary work and exorcism at the side." Irina told us. We heard that Heaven was aiding us, frontline fighters, from the shadows. Therefore the priests and nuns we just went pasts are people doing that job… Wait, Irina just said something that bothers me.
"Exorcism…. Against Devils?"
When I asked just in case, Irina made a bitter smile.
"Nah, Devils that claim this area, Rias-san and Sona-san, are our precious comrades who we have allied with, so we don't do anything against them. Also there's no way you guys will do something bad, right?"
That's right, Rias won't do anything to harm people, she showed so much affection towards them. So what do they exorcise?
"Ah, you mean evil spirits?" Xenovia answered my question. Ah, so Evil Spirits then, I understand, so they get rid of bad ghosts.
Irina nodded and continued
"Yes, Evil spirits are things that no matter what happens will always exist. So part of our job is to recue people form those kinds of things."
"That's also what Rias onee-sama does." Asia added. Yes, Rias also does exorcism if someone requests.
Irina sighed while walking up the stairs.
"The truth is that after the treaty, the number of exorcists has been declining steadily."
I think Azazel-sensei also said something similar… Irina continued.
"It's affecting the priests, the nuns and the warriors who fight supernatural beings the most since the treaty. Until now, we fought against the Devil and the Fallen Angels to recover our territories but since we became allies we haven't had to fight against each other. Right now, we fight monsters or beings that refused to ally with us such as vampires. Thanks to that we are reducing the number of fighters since we won't have to fight during peaceful times. Well, number shouldn't be falling so quickly since we have threats from terrorists…"
Hmm…It sounds like the exorcists have it hard. Jobless exorcist priests huh…
"For those who live and fought in name of the Lord, their swords are their way of life. So it will be hard to let that go. If it was me, I would have struggled with my future." Xenovia spoke. Maybe she knows how they feel since she's also a warrior. Even if she did choose to become a Devil on a whim, it sounded like she was struggling with decisions back then.
"By the way, we are keeping secrets about the God except for those at high positions. We can't tell devout believers the truth."
Irina said with saddened eyes as most people here don't know that the God, who wrote the Bible, no longer exist. That's to be expected. Asia, Xenovia and Irina had their mind nearly broken after learning the truth. To the people at the Church, that news will be like the end of time for them. If they lose faith in everything and are filled with sorrow, that will be disastrous.
As we walked up the stairs, I wondered where Irina is taking us to. Just then, she stopped in front of a door.
On the door, there was a passage written in the Angel's Alphabet with an image of a Cross drawn on it and the door feels heavy. Whoever beyond that door must be someone of a high position.
Before she knocked, she turned around facing us.
"Actually, the regional manager for this area is here right now. Normally that person will be very busy traveling from Vatican and Heaven but she gave us a bit of her own time as a special occasion. That person is also a reincarnated Angel like myself."
Hmm, regional manager. I don't know anything about the person from Heaven who oversees this area. Well, I just haven't asked about it before. I'm sure Rias or Azazel-sensei will know about this person.
Staffs from Heaven are surely mysterious. Well, I'm not really familiar with the side of the Fallen Angel or Devil as well….
"So the regional manager is also a reincarnated Angel. She must be a devout believer, right? I'm excited."
Xenovia seems like she's full of excitement but Irina had mischievous smile on her face.
"Ufufufu, Xenovia. You will be very surprised."
Saying that to Xenovia, Irina knocked on the door.
"Please, come in." someone politely spoke…. From her voice, she seems like a young woman.
Inside the room was… a nun sitting in front of the office desk. She is wearing a bail so I couldn't see her hair. She had blue eyes and gave off a northern-European look! She was a beauty with noticeable body features that is like a female model! She seems like…. She's in her late 20's. With her warm smile, she gave off a tender aura.
"Everyone, thank you for coming all the way here." The nun stood up and greeted us.
She greeted us warmly but I can't take my eyes off her body! Since she's wearing nun's clothes, her body feature aren't shown but my instinct for a woman's body improved quite a bit lately so I can guess with good accuracy.
I bet she's very glamorous. If she takes her clothes off, it would be such an amazing view! She has such a nice bottom and her legs are also not too thin while not being too thick either, just perfect!
Although I'm staring at her with lecherous eyes, she only returned with a smile. Damn, am I feeling guilty because I'm at a Church?! Looking at a nun's pure, innocent smile, I suddenly want to confess even if I'm a Devil!
….Right then, I noticed that Xenovia is frozen solid next to me. This girl, her face is blue!
Xenovia spoke with flustered voice.
"S-S-S-S-S-S-Sister Griselda! W-W-W-W-W-What are you doing in Japan?!"
Ara, they know each other? She's so flustered, she's not normally like this! She's always confident!
The person called Sister Griselda kept smiling and opened her mouth. On the back of her hand, she had the letter Q on it.
"Nice to meet you, Servants of Gremory house. I'm the Queen of one of the Four Great Seraph Gabriel-sama, Griselda Quaeta. I'm regional manager of this area for Heaven, pleased to meet you. "
Oh ho, Queen of one of Four Great Seraph, Gabriel-sama! She's Queen of that ultimate beauty Angel-sama! She must be of a high position then?
"Sister Griselda… she's very famous… When I was still at Church, I heard her name few times."
So Asia also knows of her. Irina nodded and spoke.
"By the way, Gabriel-sama's suit is Heart. Therefore Sister Griselda is the Queen of Heart. And everyone calls her such."
Eh he, [Queen of Heart]! So then since Irina is Ace and Michael-sama's suit is Spade so that makes her Ace of Spade! Both are quite strong cards in a card game. If Queen of Heart and Ace of Spade are both in the same area then this region must be very important to Heaven as well. But I still can't believe that Irina is the Ace of Spade. Is it because I know how she normally lived….?
Sister Griselda turned her eyes to me.
"Sekiryuutei Hyoudou Issei-san right? I have heard about you, the rising star of the underworld who accomplished many feats, correct?"
"T-That's, I'm not sure about rising star…."
I'm embarrassed to hear that from such a beauty! I got so embarrassed… Sister Griselda smiled and continued on.
"One of Seven Deadly Sins… it seems like you are craving strongly for sexual desires. Fitting for a Devil I imagine. Not only that you are a Dragon. According to the Lord's teachings, Dragons are Evil Beings. [Devil and a Dragon full of Sexual Desires]…. Fufufu, if one of our more sensitive believer were to be here, they might just faint."
I-I have no idea if I'm being praised or being insulted at….
Just then, Irina whispered into my ears.
"Sister Griselda's really strict with Devils. Before the alliance, she fought against Devils and Fallen Angels for Heaven. She is also one of top five most powerful exorcists within all the Church divisions, especially among female exorcists. But she's not a bad person. That was just her sense of humour. "
She's brave nun who fought against Devils then! A-And that's her sense of humour? Well, I couldn't sense any hostility in her words so that must be true.
"Next is…. Xenovia."
Sister's eyes turn toward Xenovia. Xenovia tried to avoid her gaze but Sister quickly walk toward Xenovia and grabbed her face with both of her hands. With a bright smile on her face she spoke with a confident tone of voice.
"It's been awhile, Warrior Xenovia. I never thought we would ever meet again like this. "
Her voice was calm, but I think I can sense some anger with it….
"Y-Yes, Sister Griselda. I-It has been awhile… H-How h-have you b-been….?"
Oh, I've never seen Xenovia sweating this much and speaking this nervously! It's quite refreshing to see her like this!
"'How have you been' isn't something you should be saying right now? Why did you reincarnate into a Devil after coming here for a mission? Not only that, why haven't you contacted me until now? If there's something I really want to ask, it is what you are doing here showing your face, stand up…!"
Sister Griselda slowly focused all her strength onto her hands and her anger was increasing steadily! The room is now full of overpowering aura that came from the Sister who was so kind just a moment ago.
Irina told me and Asia.
"Sister and Xenovia came from the same facility. Not only that, she's the senpai of Xenovia. She also knew Xenovia longer than anyone at the Church. I also received multiple help from her when I was working with Xenovia as a pair."
So that's it then! She's Xenovia's senpai from home! She never talks about her past so it's shrouded in mystery but she did have someone important back home.
Xenovia, who couldn't run away since her face is grabbed by Sister, shouted at Irina.
"Irina! W-Why haven't you told me about Sister Griselda before! If I knew that the regional manager was her, I wouldn't have come here!"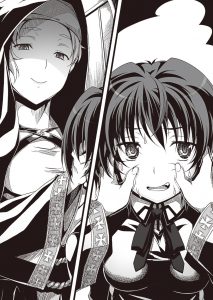 "I didn't tell you because I had a feeling that you wouldn't come here if I told you about her. I heard that you never contacted Sister Griselda ever since you became a Devil?"
"O-Of course! If I did…. I would have been killed by her!"
Xenovia tried to resist but she couldn't get away from Sister Griselda, her face became distorted since Sister Griselda was grabbing her face hard. Seeing that, Irina gave a cheeky laugh. Sister Griselda continued to speak while grabbing Xenovia's face as hard as she can.
"I was about to go crazy when I heard that you went to Japan and reincarnated into a Devil. You, who I have raised with the teachings of God, became a Devil… you always acted on your own and created some weird theory all the time so everyone treated you as a problem child but I always thought of you as kind hearted girl."
Sister Griselda is right. She never listens to others and acts on her own. She also say random things all the time and gives us a headache. We often are in a tight situation because of her, Sister Griselda! However, she's not always that bad.
Asia then spoke to Sister Griselda.
"Sister Griselda, please forgive Xenovia… as someone who has been expelled by the Church and reincarnated into Devil, I'm sure you won't believe me but… Xenovia-san is a really good person. She's our precious comrade, saved me in multiple occasions and… And Xenovia-san is my precious friend. So please forgive her."
Asia asked Sister Griselda with all her heart, asking for forgiveness as her comrade… as her friend. To Asia, Xenovia is a very precious friend to her.
Having heard Asia, Sister Griselda let go of Xenovia's face and became calm again.
"Sister Asia, I also know of you. I heard you have been suffering because of the Sacred Gear that you possess. I will send out a special ID card for you in the near future. Using that will allow you to be able to participate in Church activities with some restrictions."
Hearing that, Asia was very surprised.
"W-Will….. that be alright? To give such an important thing to someone who became a Devil…."
When Asia hesitantly asked, Sister Griselda made a broad smile and nodded her head.
"Of course. Even if you became a Devil, you will still be our friend if you still hold onto your beliefs. Although there will be some restrictions since you are a Devil, if you follow the Lord's will, you will be able to join us."
Hearing Sister's reply, Asia was experiencing tears of joy.
"That's great Asia! You might be able to attend a mass!"
When I said that, Asia said "Yes!" excitedly. She's really happy right now.
Sister grabbed and pulled Xenovia's cheek again.
"Sister Asia, if I can ask you a favour, please remain this troublemaker's friend in the future."
"Of course! A-And also, I am no longer…."
"At least I will treat you as a Sister."
Hearing Sister Griselda's words, Asia nearly fainted. Today must be greatest day of her life; she's recovering things that she has lost ever since she became a Devil one by one.
This Sister is a very good person indeed.
"Sister Asia, I will teach you how to handle this Sexual-predatory Devil and this Easy-going Devil. Ufufu, I have defeated many Devils before, this much won't be a problem."
……I think she will remain strict on me and Xenovia. Irina spoke to Sister Griselda.
"As I have mentioned before, I'm think of showing them what Angels do for their job."
"Yes, that's a good idea. For Devils to observe an Angel's job, I have never felt the feeling of an alliance like this before. Please, enjoy your time. Ace Irina, be careful not to make mistakes."
"Yes!"
Irina replied strongly.
And like that, we began to observe Angel's Job.
"Ah, beautiful Angel. Please hear my confession~"
A guy was kneeling down and was giving a confession at this building's mass hall.
"If it's ok with me, I will gladly hear your confession."
Putting a halo on her head and with her wings out, Irina listened to the person's story. This person is one of the workers in this building so he knows the existence of Angels.
To put it simply, this is [Angel Counselling]. Basically she listen to problems people are having in this mass hall.
"God will surely forgive you for borrowing lots of porno DVDs."
After hearing the guys' problem, Irina replied as such. We were sitting on the bench near her, observing her work. The person's problem was hilarious, but the Irina who is answering the problems of people is also quite funny to look at. Wearing bright white Angel clothes, she also emitted a bright light to increase the holiness; it was so obvious that she's suppressing her normal behaviour.
"Hey, isn't her acting a bit obvious?" I turned around toward Asia and Xenovia but…
"………"
"………"
Those two were observing Irina's work with keen eyes. For them, this must be good experience…. Sadly their way of thinking and mine are very different, probably thanks to different environment we grew up in. I'm feeling sad that I'm not able to experience the same feeling as these two.
Irina continued to hear people's problems after that.
After two hours of work, she finished her current job and moved onto her next job. Of course, we followed her to her next job as well.
At another mass hall inside the building, she faced a young couple who brought their child.
"Angel-sama, please give this baby a holy name."
Ah, they came here to ask an Angel to give their child a name.
"Of course!"
Irina accepted and started to scribble something onto paper she prepared.
"Now, I will name him, [Jacob]-kun! Ah, in Japanese, it's written like this! I gave him an adult name!"
What are you doing, naming a child just like that! It's obvious that you just thought of a name and forced Japanese words onto the name! At least think before you give people a name!
"Thank you very much, Angel Irina-sama!"
What?! They are happy with the name! Even when she gave a weird name to their child!
"Hm, it's good name."
"Yes, as expected from Irina-san."
Even Xenovia and Asia?! I-I don't know anymore! I can't understand their way of thinking!
The next place Irina went was studio inside the building. There was a bunch of cameras and the male cameramen were there ready to shoot. The photographer started to take photos of Irina who changed into a swimsuit!
"That's great~ Irina-sama, make this pose this time."
"L-Like this?"
"That's right! Then here it goes!"
Flashes went off towards Irina who is making cute poses.
…From what I heard later, there's an internal weekly magazine that's issued for certain members of this building called [Weekly Brave Angel]. And Irina is being featured in this upcoming issue as Michael-sama's Ace.
"I heard that Irina-san is quite popular with people who know that Angels exists." Asia gave me such information.
… She's like an idol. Wait, aren't we in the same situation as well? Anyway, it seems like she's also quite popular in this kind of business.
Well, she's really cute, so I can understand her being popular but…. Is this really an Angel's job as well…? This is different from what I had in mind….
After finishing the shoot, the cameraman spoke.
"Fufufu, Irina-sama, you brought your boyfriend here. Is he that rumoured Dragon boyfriend of yours?"
He looked at me…. Oi oi, there's rumour like that?
Hearing that, Irina's face went completely red.
"T-T-That's….! Ise-kun is my childhood friend or something like that….."
Irina, who was embarrassed, said in a flustered tone of voice.
"Since Irina-san is popular among people here, it will be a shock to male audience if they hear that you have a boyfriend."
The cameramen laughed heartily after saying that. Irina meanwhile is red in embarrassment.
"…. Are you two going out?"
"Oh ho, so that's happening."
Crying Asia and Xenovia are glaring at me!
"H-Hey! Say something Ise-kun!"
Irina is walking toward me… and her foot got stuck on a camera cord and….
"Kyaa!"
She fell towards me! I managed to catch her in time but…. I felt the skin of an Angel through my hands! When I look down, I see that the Swimsuit had fallen off when she fell so my hands were directly touching her breasts!
I-It defiantly has grown! Moreover, the feeling of her skin is amazing! It's really is an angelic touch!
"Ooooh, Irina-sama! To embrace with your childhood friend here, you sure are bold!"
The cameraman is taking photo of us holding each other! Irina is making a sad face as if to hide her embarrassment.
"….Y-You can't Ise-kun…. Ha, so this is how you are thinking of crossing the line…."
O-Oi, This is not the time to say that kind of thing! Your wings, they are changing between white and black! You are about to fall! Come on! I'm ok with going with this but you can't fall just like that!
And someone just then pinched on my cheeks.
"….Let's stop right there."
"I'm not going to forgive you if you go first. If you want to, let us four do it together."
Asia and Xenovia are pinching on my cheeks.
….wait, what did you just say Xenovia?
After that incident, Irina continued her work as Angel which ranges from file management to cooking classes and reception.
….Rather than an Angel, she looks just like a normal worker. But others are relying on her with great expectations, so it looks like Angels are important to the people of Church even if I don't understand some of the things about it.
Currently, we are taking a break at one of restaurant in this building.
"Ah, today was fun."
I said truthfully. It was a really interesting experience. This was the first time I came to a building affiliated with the Church, and this was the first time I met with so many people of the Church.
"Today was amazing."
"Yes, it was really great."
It seems like Xenovia and Asia are both satisfied with today. That's to be expected. They were able to experience everything they wouldn't have been able to do since they have become Devils.
"It seems like you have seen most of the facility."
Sister Griselda appeared. She had a smile on her face and spoke to us.
"We are about to have practical training for young exorcists, would you like to see?"
Practical training!? Well I'm interested.
"But we couldn't find any evil spirit for training purpose…. We had a mass extermination not too long ago."
And she turned her gaze towards me…. Wait, me?
"Since you are a Dragon as well as a Devil, it will be great if you could be their opponent…. What about getting rid of your sexual desires? It's not good to be perverted."
When I heard her suggestion, I felt chills down my spine but Asia and Xenovia nodded their heads.
"Yes, it might be good to make Ise-kun less of a pervert."
"Yes, its ok to be bit perverted but, being too perverted makes girls feel uncomfortable."
WHAAAAAAAAAAAAAAAAAAT?! They are making me less pervert?! No way!
"Irina! Say something!"
I asked her for help but… her face reddened and….
"…I want to have a relationship with Ise-kun where I won't fall so, I agree?"
….she winked at me! I don't know if this building is having an effect on them or if Heaven gave them blessings or something but they are becoming more and more Christian like!
"NOOOOOOOOOOOOOOOO WAAAAAAAAAAAAAAAAAY! YOU CAN'T GET RID OF MY SEXUAL DESIRES!"
I ran away from there and Xenovia started to chase after me. I made a promise to myself that I won't go near the Church where they have [Sexual desire = Sin] mentality.
Devils that are tolerant with Sexual Desires are the best!